Launch your own global open- or closed-loop prepaid or gift card program. Use the TWBS FinEsse platform to create customised and optimised payment flows for your business. From niche applications & use cases to global financial program management, from start-ups to global enterprises, we build your bespoke program to scale.
Create your own payment experience, operate your own prepaid program, and be in control. TWBS delivers fully-hosted and managed white-label prepaid programs and applications. Create your own gift card, prepaid card or payment voucher program using TWBS FinEsse platform. Check out our Services and Solutions.
SOLUTIONS
TWBS program management
TWBS provides every component required to launch your own prepaid payment scheme. From project definition, engineering of the application, hosting and the running of the program under your brand. Our team of payment experts ensure that your program is delivered to specification and schedule on agreed budgets and operated in full compliance. White-label prepaid management at its best.
Embedded finance
We build a user-friendly and high-performance API platform. Our TWBS FinEsse platform allows the creation and operating of thousands of different use cases and applications.
Whether you are a Fintech, a Bank, an online marketplace or an e-commerce platform, by simply connecting to our FinEsse API platform, allows you to create, test and deploy customised functionalities and features, seamlessly integrated into your existing platform and processes. Our objective is to allow you to focus and address those parts of your current payment operations that require optimisation, nothing more, nothing less.
Be it the creation of chronological multi-step processes to receive funds in a single account with an automated splitting-up and disbursement of funds into multiple accounts or the creation of a completely invisible funds flow on a marketplace in real-time, between multiple stakeholders, be it B2B or B2C, in a compliant and economical way – TWBS has it covered.
Low Code API Platform
TWBS provides all code and allows you to create your application's specific use case and flow. If at all, minimal coding only is required.
Scalability
Our FinEsse platform is volume-insensitive and scales to the demands of your project. Start small and scale-up. We provide the platform for it.
Economics
One of our top priorities is time to market and revenue. The ease of our API platform allows our clients to define test and launch (and also change) their solutions quickly, whilst minimising the operational costs and improving the unit economics.
Embedded
The keyword in our whole approach. By using features and solutions built on FinEsse you don't have to change established customer journeys – unless you want to. We work behind the scenes, to ensure seamless and frictionless automation of those parts that relate to your application's payment or financial flows. We manage complexity to allow you to deliver simplicity.
Talk to us about our plug-and-play TWBS FinEsse platform to learn more.
---
The TWBS FinEsse platform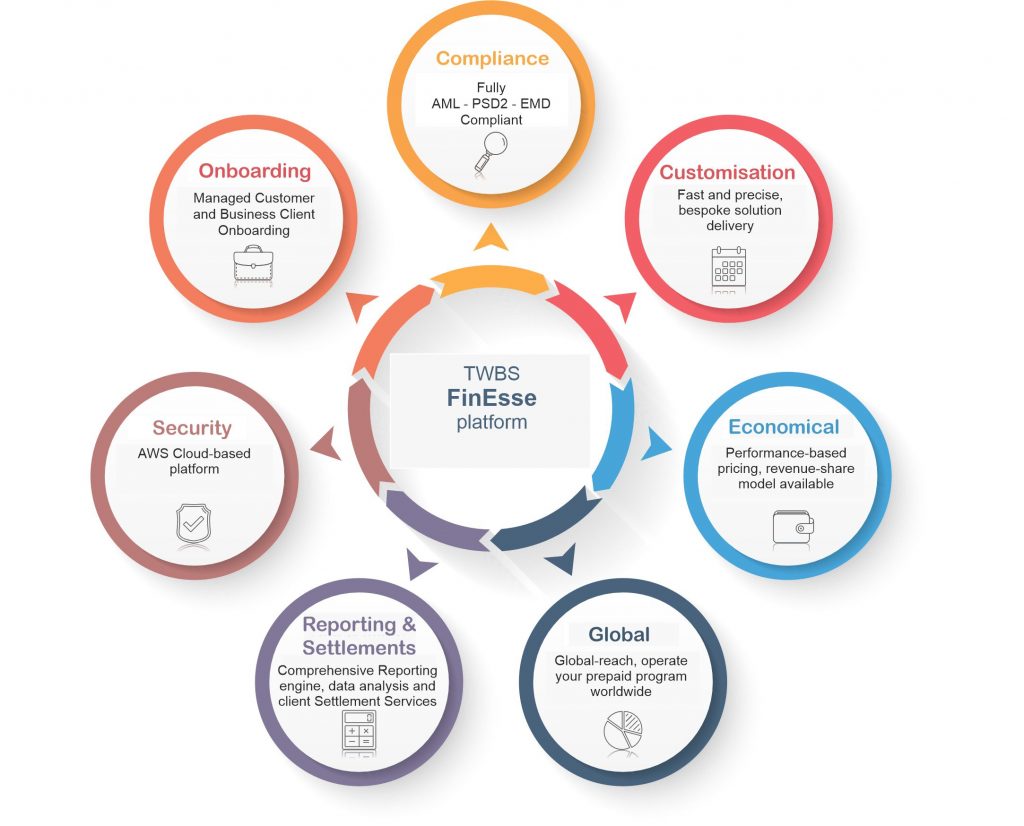 Our promise
Business Growth
We transform, innovate, automate, re-engineer and clean up – all for your business to scale!
Budget
We stay within the agreed budgets.
Deadlines
We make your deadlines our deadlines, always!
---
SERVICES
Software Development
Bespoke Software Development for e-commerce platforms, financial services companies, payment service providers and content distribution providers.

TWBS assists e-commerce and financial services companies of any size and speciality with software development and project assistance, from start-ups at the formation stage to mid-sized businesses and large enterprises focusing on optimisation and expansion.

Either by using our smart API platform FinEsse which allows you to define, test and deploy fully-customised payment features and flows – or by building bespoke solutions 100% to your specification for your purposes only.
Tech Consulting Services
TWBS helps you smoothly align technology with your processes and value-creation chain.

We assist our clients in identifying, deploying, and managing complex, technology-based solutions in business transformation, expansion, digitalisation, and business outsourcing projects.
Outsourcing Services
Via our internal team of specialists and our network of partners, we can support our clients in outsourcing many internal business processes in IT and application management, customer support and internal technical support.

Our clients achieve a higher degree of business efficiency and performance by using our standardised but flexible outsourcing arrangements and frameworks.
Don't hesitate to reach out to us, if you want to know more about our services.
Please write an email to operations@twbs.eu